MUSHROOM JEAN SHORTS
Organic Hemp/Cotton/Lycra Dark Denim Fitted Shorts with Grey Cotton/Recycled Hemp Mushroom Patch Pockets, Side Slits and Red Zipper.
NOTE: These guys look awesome with everything.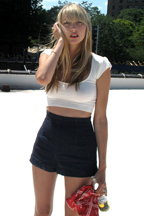 Opiate by Mandate of Heaven is a line of organic limited edition garments, made to order or in small runs by ethically compensated hands.
Please allow 2-4 weeks for your Opiate order to arrive; these guys are totally worth the wait.